happy wednesday!
what i ate wednesday no less.
make sure to check out other what i ate wednesday posts here. and here.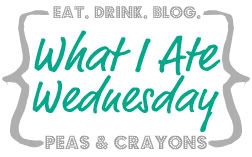 …
yesterday started off early with a trip to the gym. i had a piece of udi's millet chia bread, trader joe's chunky peanut butter, and a few banana slices. again, too out of it to take a photo.
it was a tough day – chest | triceps | shoulders | abs. plus a thruster + burpee finishers. my armpit flab was shaking when i got home.
carrot | pineapple | banana | turmeric | cinnamon | almond milk | flax | ice | VEGA SPORT
made my usual post-workout protein smoothie. i love vega sport so much. i would literally drink a smoothie for every meal if i could. just. so. good.
i downed half the smoothie while i got ready. with my super short hair, my getting ready time has been significantly cut. before i left for work, i whipped up this tasty egg-y breakfast.
eggs | roasted sweet potato | broccoli | brown rice | kimchi
since i posted my favorite protein breakfast scramble on tuesday, i decided to make a similar scramble. nothing better than eggs and rice and sweet potatoes. i finished off my smoothie when i got to work.
it was a crazy busy day. i have a not so favorite client that keeps putting in new requests. luckily, we played a team game for lunch.
roasted sweet potato | cucumber | zucchini | carrots | romaine | white beans | pumpkin seeds
yellow bowl + bad lighting = not so good photo.
this salad was much more delicious than it looks. the afternoon was full up. i had my weekly cup of coffee with coconut oil for a little pick me up and some carrots + peanut butter. 
after work, i made the trek out to h&m in hopes of finding a cute maxi dress and some shorts. i found a cute pair of shorts, but the dresses did not work. some were even too small!
since i started lifting, i seem to need a slightly bigger size in some stores. but apparently not in h&m. i grabbed handfuls of raw mixed nuts on my drive to target. favorite store of course.
side note: i had a lot more nuts than 7…
i literally hardly ever leave target without purchasing something. and let's face it, who does. it's good i went because t-shirts were 40% off. this girl snagged herself like 5. plus, i had a coupon. and cartwheel. seriously, i love target.
shredded chicken | morning glory muffin w/coconut oil | brussels + radish + peas
i got home much later than usual, and the whole drive home i was debating on what i should make. i had some frozen shredded chicken and cooked it up quick with some veggies and a frozen morning glory muffin. you can tell from this photo that i knew i was going to be a wiaw post, because i didn't throw everything in the skillet at the same time. i try to take good looking food photos for you guys occasionally.
and i also found out exciting news last night…
i'm seriously SO EXCITED to be part of such an awesome community! be on the lookout for more info on this. and make sure to go check out 'i'm fit possible' if you don't know about them yet.
…
have a great wednesday!
– jena.
p.s. anyone else LOVE target? what are you eating this wednesday?
want more burpees for breakfast? find me on facebook. instagram. twitter. bloglovin. and pinterest.